LCWM MCA Performance Top in Region
By: LCWM Teacher Education Association
The 2021-2022 testing season at Lake Crystal Wellcome Memorial (LCWM) was successful. LCWM students performed exceptionally well on their Minnesota Comprehensive Assessments (MCAs) last spring. Students across the state of Minnesota take the MCAs for math in grades 3-8 and 11, and for reading in grades 3-8 and 10.
As displayed in the charts, LCWM ranked at the top throughout our region in both math and reading. Students bested the state average in reading by 9.4% and exceeded the state average by 13.7% in math. This was the second consecutive year that LCWM math students outperformed area schools.
The teaching staff at both the Elementary School and Secondary School would like to congratulate all students on this spectacular achievement. We are proud of how you took these tests seriously, worked toward your best potential, and performed well. In addition, thank you to all families and community members for supporting your students, ensuring that they are in school, and emphasizing the importance of education.
To find testing results, search online for: MDE Report Card, on the left-hand menu select "Are students mastering standards?", from that drop down, select "Test achievement levels, etc.", finally, to search for a specific district type in the district's name.
Here's to a great 2022-23 school year!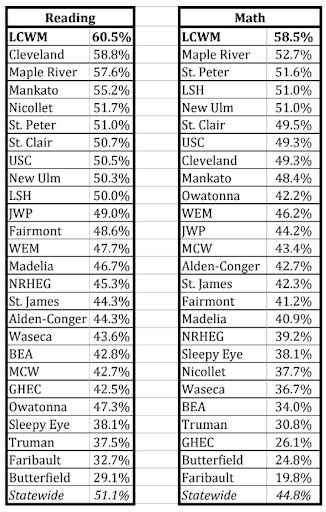 Source: Minnesota Department of Education (as of 9/15/2022):
https://rc.education.mn.gov/#mySchool/p--3